12 WEEK "WHOLE LIFE LIVING SUCCESS PLUS" Transformational Coaching program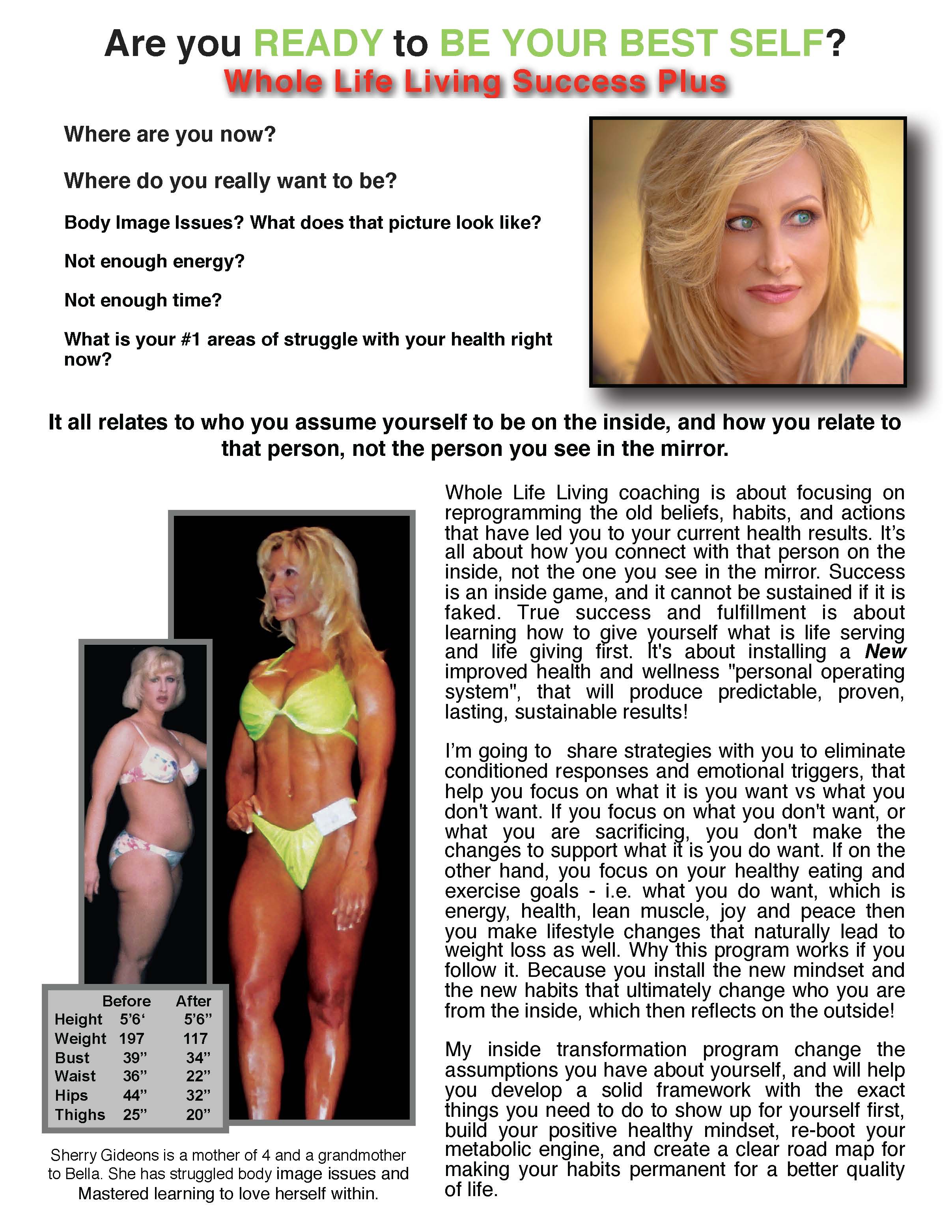 Whole Life Living Protocol: For Sherry & John's introductory offer only $97 Your getting: A $3,000 Dollar value!
12 Personal Coaching Calls (30 minute personal health coaching call each week)
12 Week Dream Builder Group Coaching Curriculum – Re-set your mindset! $1500 value
12 week modules that establish a Healthy Lifestyle Plan with new ways to eat, exercise, and address your old limiting paradigms at each stage of your journey
60 Second SOULution Online Exercise Video's for 2XX the results of traditional exercise
Framework For Success
Start with taking full responsibility for your current results
Find your underlying motivation – That personal "why" factor
Set a crystal clear Vision for your health goals and body outcome
Learn step by step simple, highly effective roadmap for health success
Implement tools that support long term NEW healthy behaviors
Planning for success
Receive a weekly module that establishes mindset strategies
Learn the exercise and food basics
Cleanse and Clean the system
Increase daily energy
Get metabolic control of your body
Control Carbohydrate intake, create therapeutic intervention
Supply your body with the extra nutrients it needs
Feel energized, healthy and happy all day!
Freedom Performance Workout Tracker with journal, measurements, and calendar + 47 pages of Success
Jump Start Your Goals ~ 10 Day Cleanse Plan
Morning Motivation and Inspirational TEXT to support vibrant health & wellness
A fully Written Healthy Body Heart & Soul affirmation Ebook that will help re-program your Mind & body
Heart & Soul Affirmations and Daily Journal Ebook
30 Days of affirmations entries to write down and program into your sub conscious mind
Sherry & John's Introductory offer $97 until January 30, 2017
Coach WITH Professional "Fitness Expert" and HEALTH AND HOLISTIC HEALING EXPERT SHERRY GIDEONS! Plus work with #1 BEST SELLING AUTHOR of "GET UNSTUCK" LIFE COACH JOHN SEELEY M.A.
NOW YOU CAN COACH
WITH LIFE MASTERY COACH & PROFESSIONAL FITNESS EXPERT
SHERRY GIDEONS and WORLD RENOWNED AUTHOR $ LIFE COACH JOHN SEELEY M.A.!
Introductory offer until January 30, 2017
Ask yourself this Question "Have you ever wanted to be coached by Master Trainer & Fitness Icon Sherry Gideons + International author and Life Coach John Seeley M.A.?" Are you ready to experience the best coaching session ever, with one of the world's most renowned health and wellness experts, Sherry Gideons & International Best Selling Author & Life Coach John Seeley M.A.?
Are you ready for the most serious simple solution workout of your life? And do you want to learn all of Sherry's Whole Life Living techniques and and simple workouts-?

THEN READ ON! Because NOW Sherry & John are offering their COACHING services to those who are super serious to take their bodies and health and wellness goals to the NEXT LEVEL!
If you are ready to learn from THE LIFE MASTERY COACH of our time, then you are in for an UNFORGETTABLE treat!
When you sign up to coach with Sherry & John, they will help you to reinvent yourself, reconnect with your passions, lose weight, increase productivity in your life, gain confidence, energy, stamina, and endurance with her exclusive "Whole Life Living Success Plus" coaching package!
This incredible opportunity to work with Sherry & John is limited to those who are ready for there challenge! And if you are highly coachable, ready to make improvements, and eager to learn Sherry's top body transforming principles and simple solution workouts-you indeed have come to the right place! Sherry has helped thousands of people to get the best out of their lives, their businesses, and their fitness levels-and NOW SHE WANTS TO help YOU create your GREATNESS! Plus John Seeley M.A. is an Internationally know best selling author worldwide who has created strategies to eliminate the mental blocks that have kept you stuck, and will catipault you to greater levels of success and happiness. What more could you ask for?
ONLY ENROLL TO COACH WITH Sherry & John IF YOU ARE COMPLETELY SERIOUS & SUPER FOCUSED ABOUT LEARNING FROM THE BEST!
COACHING WITH Sherry & John IS AN ABSOLUTE MUST IF YOU ARE:
| | |
| --- | --- |
| | Tired of the way you look and feel, and ready to make improvements in your life, and reinvent your identity as the real YOU that you want to be! |
| | Have lost your passions in working out & in life, and are ready to rediscover them |
| | Don't remember the time you felt excited about your health and wellness program, & eager for a motivational Simple Start! |
| | Feel confused with all the contradicting fitness & weight loss info that's out there-and are ready to KNOW the truth NOW! |
| | Don't have a Coach to help identify your self-sabotaging behaviours, and are ready to experience and enjoy having a positve mentor, life coach, and "cheerleader" rooting you on to your successes? |
If you answered YES to any of the above questions, then Coaching with Sherry & John is a MUST and is ABSOLUTELY ESSENTIAL! Sherry & John are ready to help you rev up your engines, give you that Simple Start – jump start, to get you up and going again, and headed in the right direction-to create & acheive YOUR WHOLE LIFE LIVING HEALTH & WELLNESS GOALS!
Again, ONLY applicants who are truly ready to step up and create the GREATNESS they are worthy of and deserve will be Hand picked, and will be chosen from thousands!
And the sooner you enroll, the better, Quit procrastinating and finding all the resons to not put yourself and your happiness first. Now is the time to reach your goals with one of the best MASTER TRAINERS, LIFE MASTERY COACHES and SUCCESS TURNAROUND COACHES alive today-Sherry Gideons and John Seeley M.A.!
Enroll NOW! Do NOT let Procrastination get your best self!
Introductory Offer Until January 30, 2017 $97
"Coach with Sherry Gideons & John Seeley M.A." We know YOU are READY to QUANTUM LEAP YOUR WHOLE LIFE LIVING HEALTH & WELLNESS LEVEL and to create the Real You that you have always DREAMED OF!

WE BELIEVE IN YOU,
Sherry & John